About R&A Graphics
Who we are
Based in the heart of the Suffolk countryside, R&A Graphics is a print business specialising in the supply and installation of large format signs and graphics. Using UV inkjet printing technology, we supply all types of signs, graphics and associated large format print.
The business has been founded on the following principles:
To provide a first class print and fulfilment service to all of our customers, irrespective of their size or the size of their order.
Be attentive at all times.
To always communicate effectively, irrespective of good or bad news.
To do the right thing, even when things go wrong.
Find solutions and remove obstacles.
Provide the best quality.
Deliver to agreed timescales.
Our printshop is fully equipped with the latest technology and our clients can depend upon our knowledgeable and experienced staff. We can accommodate tight deadlines and work with clients to ensure any installation work is carried out with the minimum of fuss or disruption to their normal hours of business.
We seek to build long-lasting relationships with our clients based on the aformentioned principles. Whilst cost is always a factor, our aim is to provide value for money before hitting rock bottom, "false economy" prices.
When we began to plan R&A Graphics, we knew we wanted it to be more than a means of generating profit for its owners. Even small, newly formed businesses can be a force for good, and that's why we're proud to announce R&A Graphics has become a Pending B Corp®.
Our journey to full certification has only just begun, but we are steadfast in our desire to combine economic success with enabling our staff to thrive, helping steward our community, and leading our industry in sustainability and social responsibility.
Eventually, we hope others will benchmark their business against ours, and join us in raising the bar for best practice for corporate, environmental and social responsibility.
For more information please visit www.bcorporation.uk.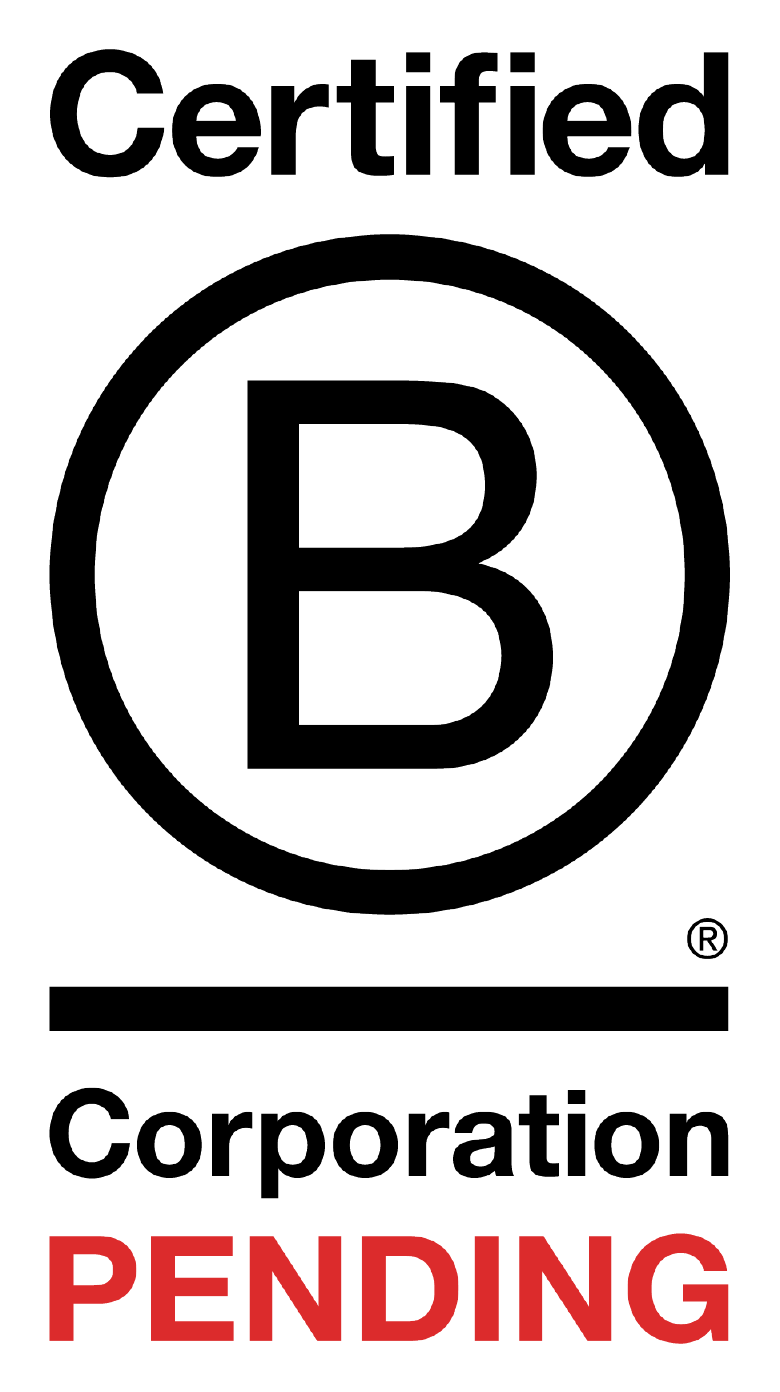 R&A Graphics Founder
Richard Stiff
R&A Graphics was founded by Richard Stiff.
Whilst his 32 year (and counting) career in print started as a trainee typesetter, paste-up artist and platemaker, a willingness to adapt and retrain has seen him progress through various roles, gaining a vast range of skills and experiences along the way.
Although the greater portion of his career to date was in production management, that has not stopped him gaining proficiency in many other areas. These include project management, environmental certification and compliance, reprographics, and wide format and sheetfed industrial inkjet printing.
Richard found himself being furloughed at the beginning of the first COVID lockdown in April 2020. Having initially assumed it would be just for a short while, it soon became apparent a return to work was a long way off.
Initially as a means of keeping his brain ticking over, Richard began to think how he would want to establish and run a print business. As well as ensuring factors that any client would be entitled to expect, he also wanted his blueprint to make meaningful commitments to environment, community and staff issues. Whilst not completely disregarding company profits, it was clear this imaginery company should be run in a much more altruistic manner than many companies.
As the months rolled on through 2020, and the calls back to work became all too infrequent, Richard began to do more than imagine. By the end of the year it was clear that others shared his vision and the rest (as they say) is history.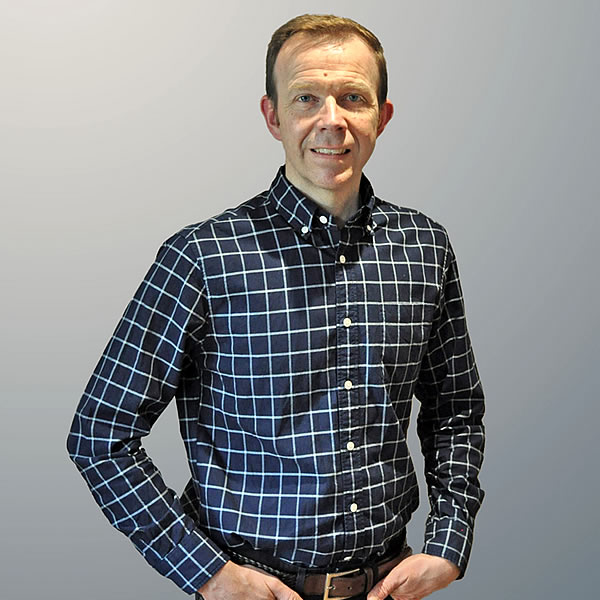 R&A Graphics Tech
What we use
In deciding how to "kit out" the business, we were acutely aware of specifying machinery that would enable us to produce all of our key products in house, whilst ensuring value for money and flexibility. We think we've got it right.
Mimaki UJV100-160
Our Mimaki UJV100-160 printer is configured to print in CMYK plus white. Launched at the beginning of 2021, the UJV100-160 prints at a maximum resolution of 1200dpi up to 1600mm wide.
The UV-cured inks are GREENGUARD Gold certified and generate almost no VOC. This makes them suitable for schools and medical institutions, and minimises their environmental impact in comparison to traditional solvent inks. In addition, being a LED UV-curing machine, energy performance is greatly improved.
We are driving the UJV100-160 via Mimaki's latest version of their Rasterlink software, version 7. As well as other enhancements, Rasterlink 7 has greatly improved functionality for variable data work.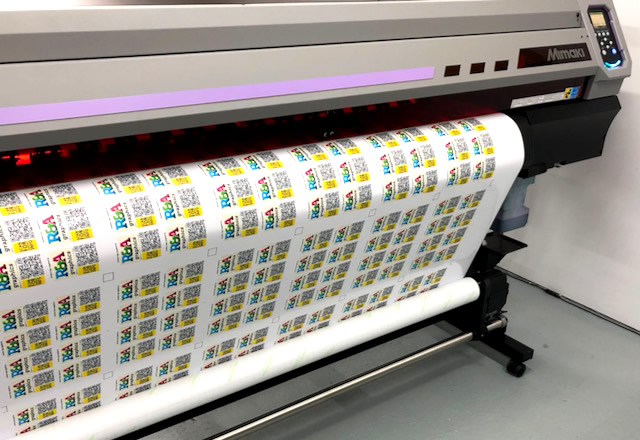 Mimaki CG-160 FXII Plus
We also chose Mimaki for our CG-160 FXII Plus cutter / plotter. Working at speeds of up to 100cm per second, we can cut printed vinyl and other substrates with great accuracy. Features such as Half Cut and ID Cut further improve productivity and reduce user intervention.
In conjunction with the UJV100-160, we can continuously print and cut, improving our performance over competitors with "all in one" print and cut devices.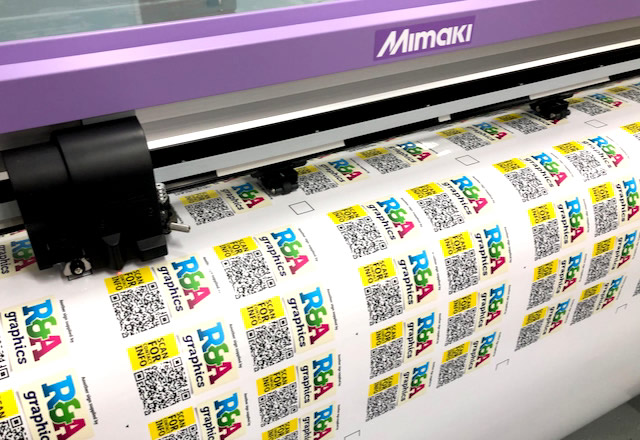 Graphic P1620 Laminator
When evaluating a laminating machine, it was clear we needed to be confident our choice would provide ease of use and reliability. Mounter's Mate were able to provide those assurances via their Graphic P1620 laminator.
With a pneumatic roller, even pressure is a certainty. Combined with clever, interchangeable media shafts that guarantee the laminate and base media are fed straight, automated runs of up to 50 metres are achieved without a hitch.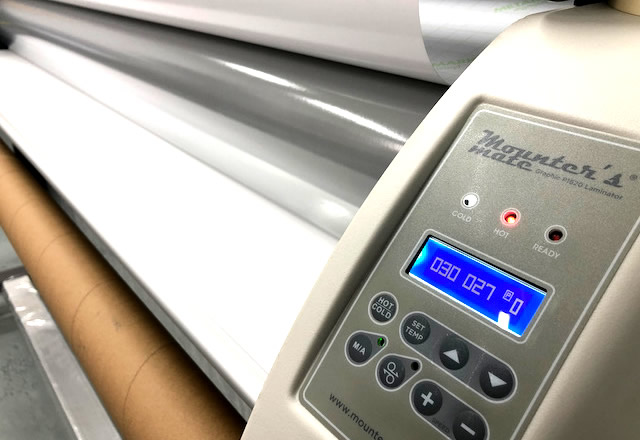 Smartstation 214
Application tables are often considered an expensive luxury, but we wouldn't be without ours. Once again Mounter's Mate provided a fantastic solution in their Smartstation 214 table.
A pneumatic roller is used to apply even pressure when applying vinyl, application tape and even laminates, and perfect mounting is achieved without any air bubbles. The process takes just seconds and greatly improves productivity when creating rigid signs.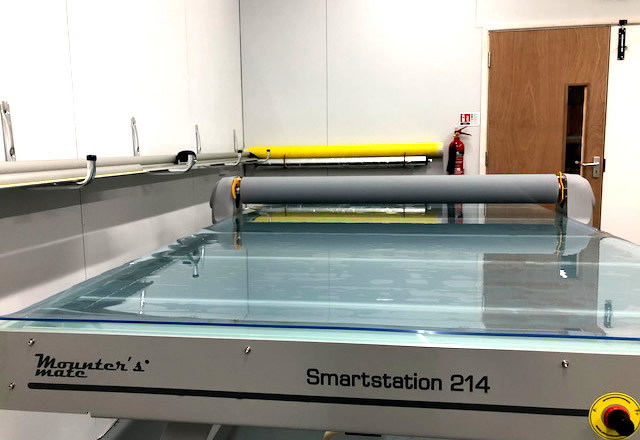 R&A Products & Services
What we do
At R&A we produce most common types of large format printed products, from posters and canvas prints through roller banners, pop-up displays and on to internal and external vinyl graphics and rigid signs.
Digital print provides customers the opportunity to utilise methods and technologies which were hitherto unrealistic, either due to cost factors or the technology just wasn't there. For instance, we can incorporate variable data, barcodes and even images into print projects. Often used for personalised numbers and wristbands for sports / mass participation events, variable data can also be used, for instance, to add unique identifiers to gain insights about the effectiveness of your marketing material.
Our machinery is also equipped with white ink, giving our clients greater options when it comes to material choice. White inks can be used as a base when printing colour onto clear material, or for sandwiching between two layers of CYMK for graphics designed to be viewed from both sides. White ink can also be used to print onto dark substrates, either in isolation or once again as a base for printing colour onto.
As well as getting the most out of our equipment, we love to help our customers explore less common effects and applications, such as the world of anamorphic imagery - where images are distorted or applied to several surfaces, yet appear like they are stood upright or a single, continuous image. We also excel in providing fulfilment services to our clients, ensuring complete, end-to-end solutions covering print, consolidation, distribution and installation.