The opportunity to ride in a real world championships was impossible to resist for R&A director Richard Stiff. Though the experience didn't perhaps quite live up to expectations.
Mud is Thicker than Water
I started racing "cross" about 12 years ago. The traditional off-season pursuit of professional road cyclists (well, at least Belgian and Dutch road cyclists) has a cult following outside low countries, with the USA, UK and Japan being strongholds. In summary, the sport requires competitors to race their bikes flat out round a course consisting of mixed terrain, from tarmac to gravel, sand, grass, loam and every type of mud you can imagine. Purists would say "the muddier the better," though personally I prefer fast flowing singletrack. Either way, a taste of blood in the mouth is as good a litmus test as any to check you've tried hard enough during the race.
Since the beginning, my racing has been almost exclusively done in my regional league that covers Norfolk, Suffolk, Essex and Cambridgeshire. Then, two years ago, cycling's governing body – the Union Cycliste Internationale – selected Ipswich to host the 2021 and 2022 editions of the Masters Cyclocross World Championships. Local organiser and bike shop owner Steve Grimwood has been putting on cyclocross races for what seems like forever, including league races, regional championships, rounds of the National Trophy and even the elite level European Championships in 2012.
Masters cycling is for older, amateur riders. There is no qualification process (although the organisers will pick the best riders if places are limited) and anyone can apply to compete in their respective age group. After a bit of deliberation, I decided I would apply to race. I knew I would be "terrible" in comparison to most of my fellow competitors, but expected to be able to look at the results and see other names below mine. To my surprise, my application was approved without any fuss – apart from being moved into the 50-54 age category race, in spite of being 49 on the day.
The week before the "worlds" I had an opportunity to recce the course. A round of the Eastern League was being hosted at Trinity Park, which has been a regular haunt for cyclocrossers for several years. It was fairly heavy going but not too heavy. Much like the rest of the season just ended, my performance was disappointing, but I had the advantage of knowing the course better than most racing in a week's time.
In the days running up to the race the weather was pretty damp. The championships started on the Friday, with the women's 55+, the men's 55-64 and 65+ races held in temperatures hovering around zero. My race was on the Saturday. Heavy rain was forecast between 5am and 9am, and so it turned out. I arrived at Trinity Park at 7:30 (to sign on) and it was heaving with rain. It didn't give up until just before my allotted course practice time, around 9:30. My fears had been realised – in places the going was really heavy, and without the luxury of spare bikes and pit crew to clean them, I'd be racing on a seriously clogged up bike within a couple of laps.
Course practice over and I returned to the car to wash the bike down ready for my race. My final warm up was held on the tarmac roads inside the show ground. No point getting the bike dirty again before starting. In cyclocross races riders are "gridded up" based on their previous results, much like the start grid of a Formula 1 race, but because this was an international field with no easy way of comparing riders, start positions were drawn at random. There were 97 riders in my race, gridded up in rows of 8. I was called up as rider 87 (last but one rider on row 11) and I was fine with that – I was going to start pretty much where I expected (hoped) to finish. Eventual winner, German national champion Jens Schwedler, was probably not that fussed by his row 8 start, especially as he'd got his nose in front by the end of the start straight.
Once we'd all been called up and riders were removing jackets and tossing them to their helpers, I casually looked round to see legend of British cyclocross and mountain biking – Nick Craig – was right behind me. Now, if anyone deserved to be on row 1 it was Nick. He was going to have to fight his way through a grid of almost 100 riders to get to the front of the race. This didn't put my mind at ease either. "What if I hold Nick up?" and "what if I crash and bring Nick down with me?" Crashes are commonplace at the start of cyclocross races – imagine dozens of bike riders, starting 8 abreast and going all out to their neck in front before the first corner – chaos usually ensues (though that's part of the fun). I needn't have worried – Nick went past me in a couple of pedal strokes and then managed to avoid the rider who somehow managed to rip his gears off and come grinding to a halt.
My start was distinctly average, but that was ok. I had a bit of space and had time to react in case anything unexpected happened. As the initial chaos of the start unravelled and everyone settled in, I found myself in a group of about 8 riders. We were evenly matched on the grassy, open stretches of the course, but as we headed into the wooded, singletrack section it was clear I was being held up by those in front of me. This was good – on each lap I could pick off riders as we went through the more technical sections.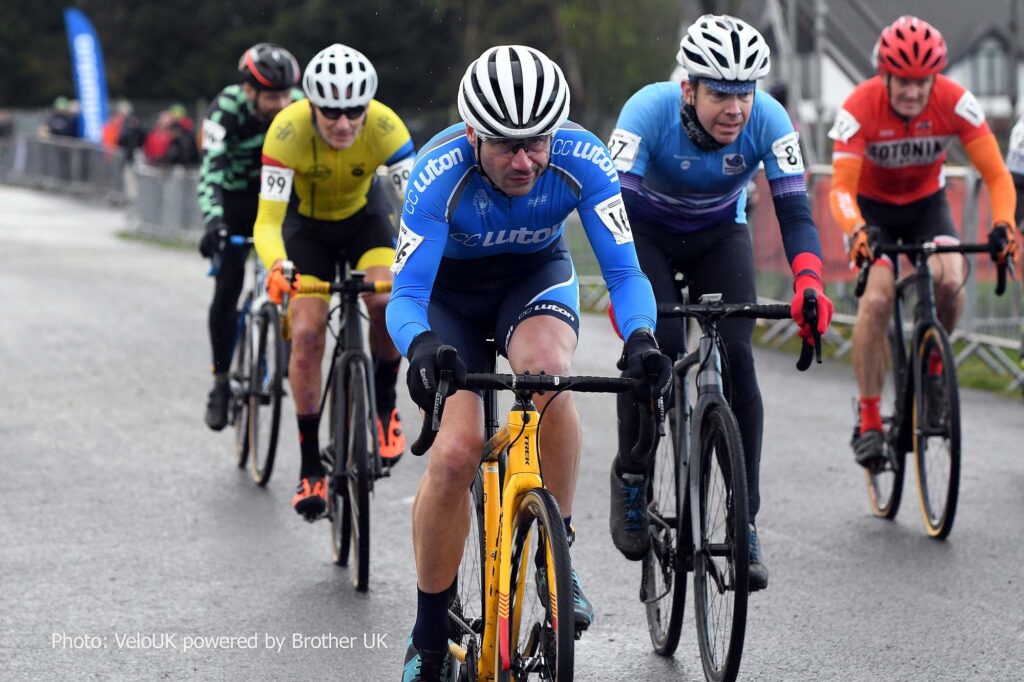 As we headed into lap 2, we hit the first of the two scaffold flyovers on the course. This one had a tight turn at the bottom, so you had to be in a low gear to get up and over. I shifted down, rode up and shifted back up to get some speed on the way back down to ground level. As the pedals turned, I couldn't feel any tension in the chain. I looked down to find my bike was clogged with mud which had forced the chain off when I shifted back up. Disaster – I had to stop and put the chain back on. It probably cost me 10 seconds or so. Most of the good work on lap 1 had been undone in a couple of pedal revs.
Not to worry – I knew I could get back onto the group of riders ahead and this would only be a temporary setback.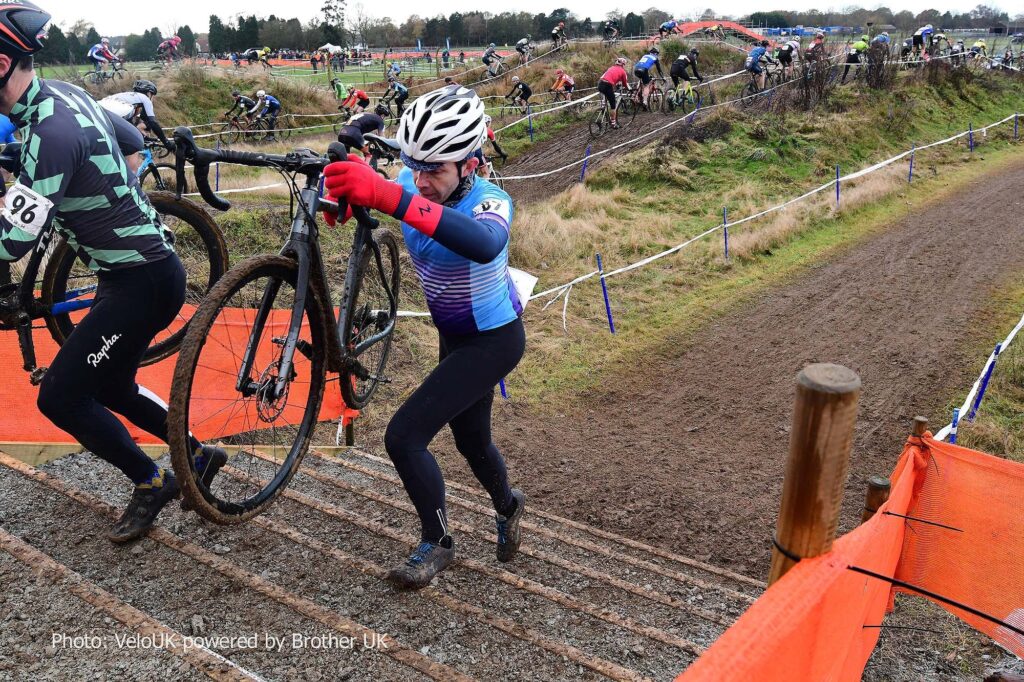 The remainder of lap 2 passed without any issues. As I hit the very long start / finish straight I could see I was slowly gaining on the group ahead. I was within spitting distance as we headed to flyover 1 for the third time. It was a case of deja-vu as my chain came off in the same circumstances. This time it took longer to get the chain back on and my quarry was out of sight. Game over – all that was left was to see out the race and perhaps try and pick off the odd straggler.
My bike was having none of it. It probably weighed a kilo more than it did when we started, weighed down as it was with mud and grass. On lap four I managed to get over the flyover without dropping my chain but still had stop when it came off in the very muddy section that is normally used for 4×4 safaris. Around this time race leader Jens Schwedler came flying past, riding a virtually clean bike that he'd just swapped over in the pits.
Remember Nick Craig and my concerns about holding him up? Well, he lapped me shortly after Jens, just as I started my fifth and final lap. In spite of his start position Nick managed to finish just 38 seconds behind Jens.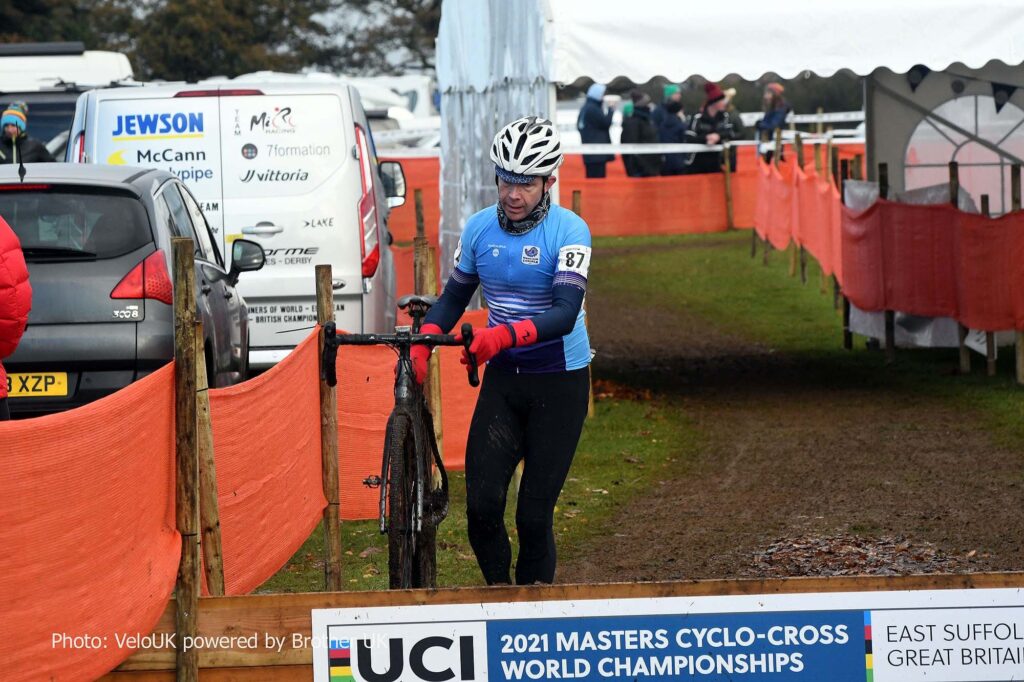 On my final lap I dropped my chain on the flyover yet again and, for good measure dropped it another time in the 4×4 section. I finally crossed the line dead last – 1 lap and 8 minutes behind our champion. By the time I rode in, Jens had probably showered, changed, received his rainbow jersey and winners medal, sung his national anthem and done post-race interviews.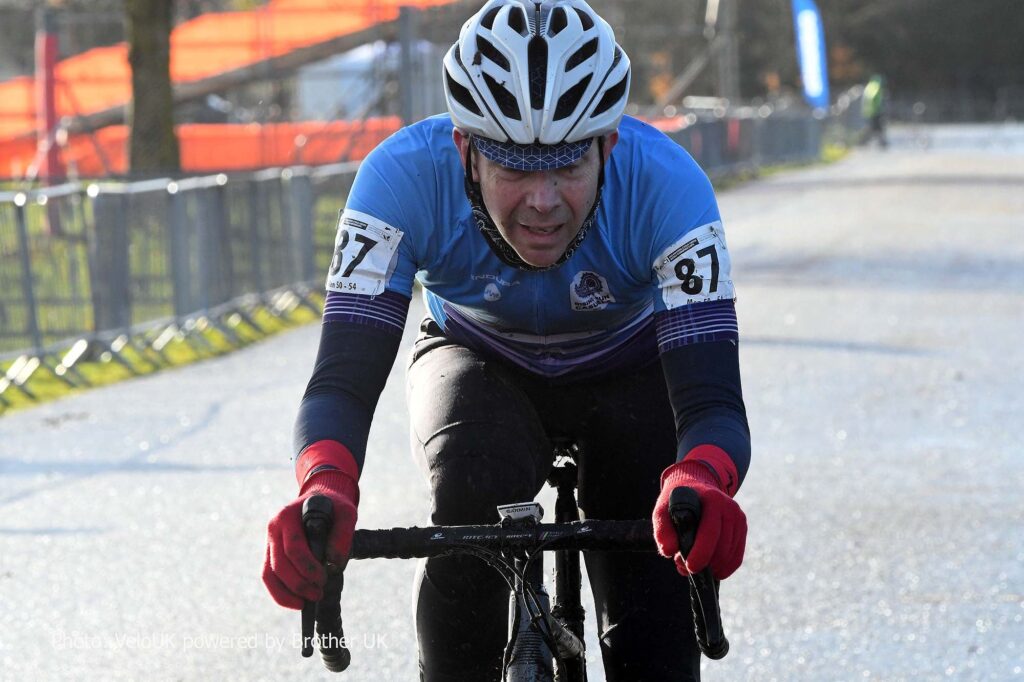 All in all, my race day had been probably as bad as it's ever been (and that's saying something given we're talking about a sport where things often go wrong). But I had ridden in an actual world championship and my misfortune was mainly down to a lack of resources – spare bikes and a pit crew would have made all the difference. Would I do it again? Of course – I got the cyclocross bug all those years ago, and despite the falls, fails and other mishaps I still love doing it. A few weeks after the worlds I was back racing my local league (though that race came to a premature end because of a puncture) and now the season is over I have a long wait before the start of the 2022-23 season in September (#crossiscoming season starts on social media in August).
I just hope for better luck at the worlds next year, and a dryer course.